Beginning jewelry making does not have to be too expensive, there are a few basic tools though that you will help you get started. Before you start purchasing individual higher end tools, the most cost effective way to begin is to buy a reasonably priced kit that has a variety of pliers and cutters. I've been making jewelry for a years and still mostly use the tools I started with.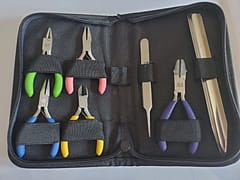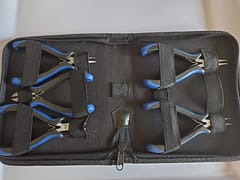 Basic Tools
Flush Cutters
Round nose pliers
Flat nose pliers
Chain nose pliers
Bent chain nose pliers
Round Nose Pliers
Used for bending wire, making jump rings and consistently shaped loops for wire-wrapping. Do not use these pliers to open and close jump rings as they can dent the wire with their round edges.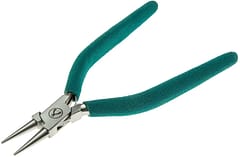 Flush Cutters
Unlike regular side wire cutters, flush cutters have a small pointed end helps get into tight spaces to trim. Side cutters are thicker and when used on wire will leave a pointed end on both sides of the cut. Flush cutter will give you one side with a pointed side and one with a "flush" flat cut.
Never use regular jewelry cutters on memory wire as you will damage the tool as memory wire is so tough, to cut memory wire you need a memory wire cutting tool or very heavy duty cutters. Likewise if you try to cut wire that is too heavy for your type of cutter you will dull and blunt the edges of the tool.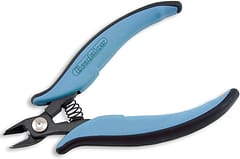 Chain Nose Pliers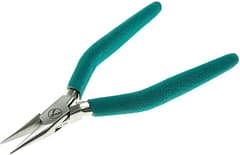 Chain nose pliers have a round tapering point they are great for getting into tight spaces on projects. Chain nose pliers are best for manipulating and holding wire, opening and closing jump rings, I find them the most adaptable pliers and the ones I use most on various projects. It's important to get chain nose pliers specific for jewelry making as there a no ridges or serrated edges on the inside of the pliers which avoids them leaving marks and dents on your wire.
Flat Nose Pliers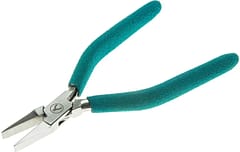 Flat nose pliers are a great multi-purpose tool, both jaws of the pliers are flat with rectangular edges they are often used to hold items while you work on them with another tool. Flat nose pliers are also useful for opening and closing jump rings and making right angled bends in wire.
Bent Chain Nose Pliers
Similar to chain nose pliers but they have a 45° bend in the nose, this bend allows you to get into extra tight spaces. It is also useful for picking up smaller findings.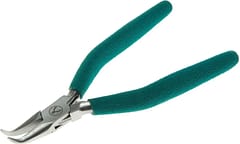 Other Tools - Nice to have
Crimping tool
Jump ring opener
Crimping Tool
Crimping beads are used to tie off the ends of beading wires securely. Once you have your crimping beads in place you use the crimping tool to crush and then round the crimping bead in place using the different parts of the tools' jaws for each step. (A future post will demonstrate this process)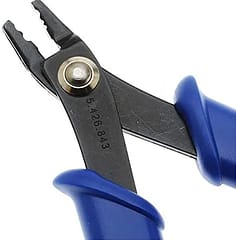 Jump Ring Opener
Pretty much every type of beading project will require the use of jump rings of some sort, they are one of the most commonly used type of findings in jewelry making.
Jump rings should always be opened with a twisting motion in opposite directions rather than a spreading motion that pulls and spreads the edges apart. Opening a jump ring in the wrong way will distort the round shape of the ring and you will not be able to get it back in shape which will spoil the finish of your project. Usually you would use two sets of pliers to do this but you can also use a jump ring opener with one set of pliers.
To use you put the ring on your index finger, pick up the jump ring with a pair of pliers then insert into one of the slits that fit the thickness of your ring, then twist slightly in opposite directions to open the jump ring then reverse to close.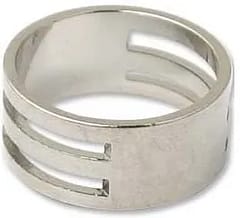 Like and follow our Artisanal Panda facebook page for all the latest posts, updates and notifications.