Pretty much every type of beading project will require the use of jump rings of some sort, they are one of the most commonly used type of findings in jewelry making and have a number of uses.
There are some definite do's and don'ts when it comes to using jump rings.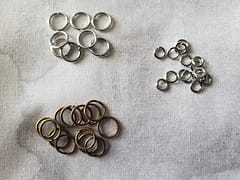 What are Jump Rings Used For
Attaching a fastening
Linking two different components
Making chain maille jewelry
Extending the length of a bracelet
Extender chains to allow for an adjustable fit of a bracelet or necklace
Add to allow rotation of components on fastenings
How to Open a Jump Ring
Jump rings should always be opened with a twisting motion in opposite directions rather than a spreading motion that pulls and spreads the edges apart.
Hold the jump ring between two sets of pliers (chain nose or bent chain nose work best) and twist to rotate each side in opposite directions just enough to open the ring to accommodate the piece you are attaching. After you have attached the connection reverse the process to close and line up each side of the gap.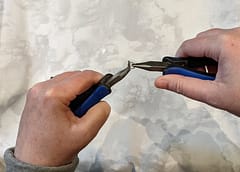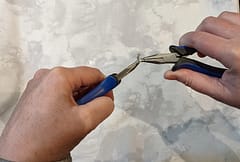 Never pull the two pieces of the ring apart to spread or open the gap. Opening a jump ring in the wrong way will distort the round shape of the ring and you will not be able to get it back in shape which will spoil the finish of your project. Opening a ring in the wrong way will also weaken the jump ring which may lead it to fail later after you have worn for piece for a while, it can also leave more jagged edges which could irritate when you are wearing your finished piece.
Do not use round nose pliers to open jump rings as they will dent the wire with their rounded jaws.
Jump Ring Opener
A handy little tool you can also use is a jump ring opener. To use you put the ring on your index finger, pick up the jump ring with a pair of pliers then insert into one of the slits that fit the thickness of your ring, then twist slightly in opposite directions to open the jump ring then reverse to close. This method is less fiddly than managing two sets of pliers, especially when your jump ring is on the smaller side.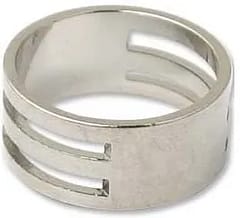 Like and follow our Artisanal Panda facebook page for all the latest posts, updates and notifications.